About Us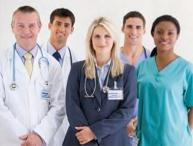 A History of Success
Since 1993, Health Ed Today has been supporting innovative healthcare training and education programs in partnership with hospitals, employments agencies, the military, and college and universities nationwide. With over 400 partnerships operating in 47 states, Health Ed Today supports a wide range of courses including Medical Billing & Coding, Hospital Coding, Phlebotomy, Pharmacy Technician, EKG Technician, and other leading healthcare courses.
Why Health Ed Today?
The healthcare industry is changing at a rapid pace. New requirements on existing roles and the creation of new in-demand specialties require the ability to learn time-trusted concepts by utilizing and accessing the medical innovations of today. Health Ed Today is here to provide your students with the necessary support to meet these growing needs.
With Health Ed Today, your students will have online, 24X7 access to:
A robust eLearning course developed by practicing medical professionals
Leading instructors to guide your students through their eLearning course
Career guidance to assist your students with their professional goals
Courses accessible anytime and anywhere
Our goal is to ensure that our partners' students successfully completing Health Ed Today courses will have the necessary skills to pursue employment opportunities in hospitals, clinics, research, and other healthcare organizations nationwide.
Learn More About Health Ed Today
Restricted Access to Content and Services: Health Ed Today only works with licensed educational institutions including licensed colleges and universities. Health Ed Today does not offer for sale any content or related services to individuals. Individuals and or other organizations who wish to access third party textbooks, content or related support services must contact their local college or university to inquire about availability, programs or services.