Innovative
Healthcare Education Since 1993, Condensed Curriculum International (CCI) has been supporting innovative, classroom-based healthcare education programs. Now through Health Ed Today, CCI expands into engaging, interactive online programs.
Start Your Health
Education Now! Explore available courses and programs with Health Ed Today.
Join Our Network
Meet the educational needs of your growing community or organization.
Locations Near You
Our partnership network of over 300 locations in 40 states ensures Health Ed Today courses are accessible in a city near you.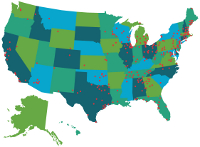 Learn more »